Which Clubs are Sailing Sabres in WA??
Currently six clubs are sailing Sabres in WA
Perth Dinghy Sailing Club (PDSC), East Fremantle Sailing Club (EFYC), Walpole Yacht Club (WYC), Maylands Yacht Club (MYC), Safety Bay Yacht Club (SBYC), Royal Perth Yacht Club (RPYC)
Should you be interested in starting a fleet at another yacht club, please contact Brian Jones (WA State President) sabreswa1@iprimus.com.au or Mobile: 0438 516 324
For information on the clubs please see below
Perth Dinghy Sailing Club
Perth Dinghy Sailing Club Website
The Perth Dinghy Sailing Club was formed in 1903 and is situated in Crawley, opposite the University of Western Australia on the Swan River. It has a long and distinguished history in dinghy sailing due to its idyllic surrounds and the friendliness and enthusiasm of its members.
The Club features:
Central location and ample parking (approx 10 mins from the City, nearby to Kings Park)
Large grassed areas for rigging dinghies
Uninterrupted views of sailing from the club's balcony or in the shade of one of the large trees.
Club rooms complete with licenced bar, canteen and change rooms.
Deck area to sit back and watch the sailing.
Operated entirely by volunteers
Family club catering for a wide range of ages and tastes.
Sailing is conducted on Saturday Afternoons from October through to Easter. Racing commences at approx 2.00pm. Other classes sailed include International 14ft Skiffs, Javelins, Cherubs, Signets, Herons, Jay-Dees and Mudlarks.
Numerous State and National Championships have been held at PDSC in its history including the 2013/2014 Sabre National Championship Regatta with over 60 boats.
For information on sailing a Sabre at PDSC please contact Sabre Class Representative Ian James ian.m.james4@bigpond.com Mobile: 0434 307 983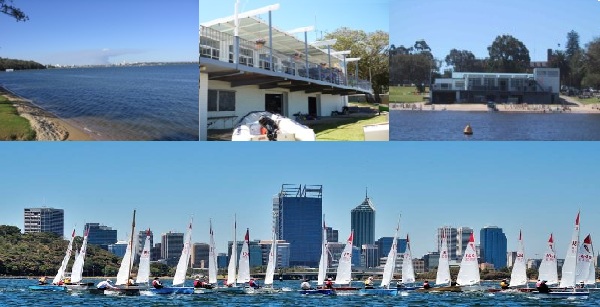 East Fremantle Yacht Club
East Fremantle Yacht Club Website
East Fremantle Yacht Club was formed in 1933 as Melville Yacht Club, in 1961 the club was incorporated and the name changed to East Fremantle Yacht Club.

East Fremantle Yacht Club offers a range of activities such as centreboard and keel boat sailing, cruising, training, power and dragon boating. Fantastic facilties include an extensive marina, pens, moorings, dinghy racks, members only gymnasium and sauna as well as a club bar and restaurant. Centreboard fleets such as the Sabres sail on Saturday afternoons during the summer season (September - April).
Sabre Sailing at East Fremantle Yacht Club commenced on Opening Day of East Fremantle Yacht Club 26 September 2010 and will continue to develop over the coming years.
For information on sailing a Sabre at East Fremantle, please contact the Sabre Class Representative Peter Johnston Mobile: 0431 039 909 Email: johnst@iinet.net.au
Walpole Yacht Club
The story of the beginning of our Yacht Club starts in 1956 when local boat builder, Terry Swarbrick purchased a small yacht from a visitor who was staying at Rest Point. Terry sailed his yacht with friends from Walpole and soon the community was buying boats and establishing a Yacht Club! The Club became formal in 1958 and moved to its location at Coalmine Beach on the Nornalup Inlet in 1959.
The Walpole Yacht Club is nestled amongst a forest of magnificent Karri, Red Flowering Gum and weeping Peppermint Tree's in the heart of the Walpole Nornalup National Park. It is also privileged to be the only Yacht Club in Australia in the middle of a Marine Park. It is fondly known amongst sailors from far and wide to be one of the Top 10 sailing locations in the world! The Nornalup Inlet on which the club sits, has two rivers feeding into it, the Frankland and the Deep, which are World renowned by canoeists for their beauty and untouched natural wilderness environment.
The club is supported by the community of Walpole and surrounding areas of Manjimup and Denmark Shires, and is committed to not only promoting the sport of sailing to individuals and families, but also swimming, canoeing, fishing, and power boating. Due to the love and respect that the community has for their Yacht Club it has had a long, prosperous and spirited history, and punches well above its weight in running events like the Walpole 'In the Trees' Regatta, which is held on the Labour Day long weekend every March. This will be one of the biggest regattas in the West Australian sailing calendar, and will be Walpole Yacht Club's 41st Regatta.
For information on sailing a Sabre at Walpole, please contact the Sabre Class Representative: Trevor Holm canoe@svensmaritime.com Mobile: 0417 951 118

Maylands Yacht Club
Located on the Swan River less than 5 km from the centre of Perth.
Since the 1946 MYC has developed a rich history of producing State, National and International champions. This tradition of sailing development continues through the training program which is designed for people who want to learn to sail so they can race or just have fun on boats with family and friends.

Maylands has the distinction of being at the "top" of the Swan River. It has a history dating back to the 1940s when its members' needs were served by a corrugated iron shed on the river bank.
Sailing in the Summer Series takes place on Sundays from October through to April. Racing commences at 2.00 pm, while Sunday morning is reserved for training. A Winter Series is held from May to September on the first Sunday of each month, with the first of two short races starting at 1.00 pm. In addition, a number of social events are held throughout the year.
Conditions are typically flat water and varying breezes, with stronger winds occurring during the summer months. Gusts and windshifts are a good test of helmsmanship, and skill and tactics often win out over straight line speed.
MYC is a family oriented club, with a strong emphasis on enjoyment and helping those who want to learn to sail.
For information on sailing a Sabre at Maylands please contact the Sabre Class Representative: Chris Holyday cholyday@bigpond.com Mobile: 0403 328 933


Safety Bay Yacht Club
Safety Bay Yacht Club is a family focused club that has been operating in Safety Bay since 1947. SBYC is located just south of Rockingham and approx 55km south of the Perth CBD. SBYC is an off the beach dingy sailing club with fleets of Windrush, Lasers, Mirrors, Sabres and O'Pen Bics. SBYC is also a registered Discover Sailing Centre. Racing commences mid to late October and concludes around the end of April each year and is generally held on Sunday afternoons.
For information on sailing a Sabre at SBYC please contact the Sabre Class Representative: Craig Nylund craig@polypipetraders.com.au Mobile: 0417 172 453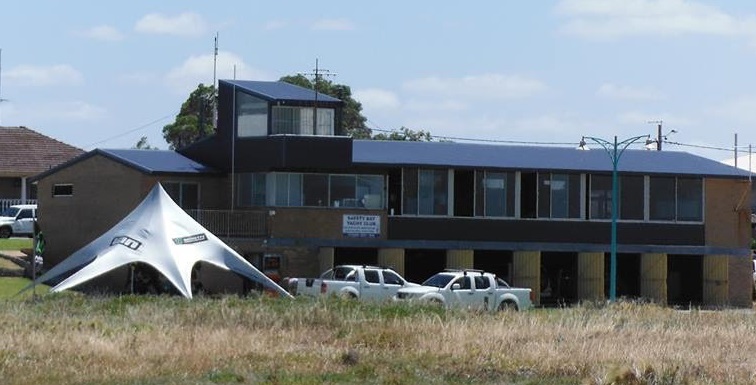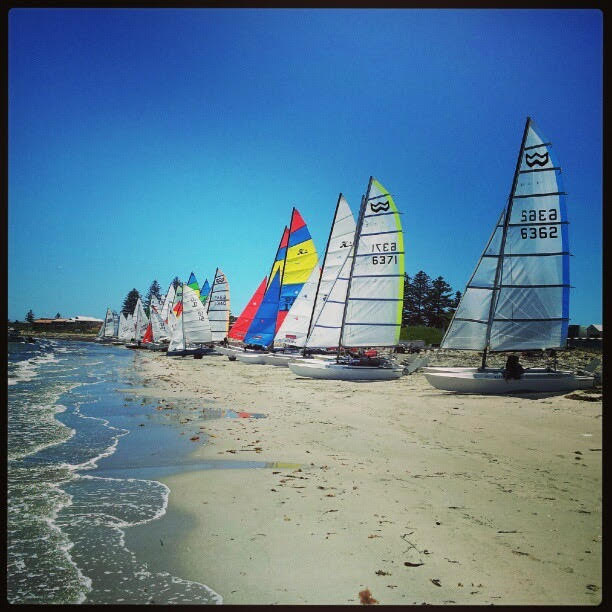 Royal Perth Yacht Club
Royal Perth Yacht Club Website
Royal Perth Yacht Club is a dynamic and progressive Club dedicated to producing champions, staging world class events, and ensuring the sport of sailing is accessible to everyone.
We offer an extensive sailing programme for keelboats and dinghies all year round.
The sailing calendar includes regular Club racing with fixed and laid mark courses, state class championships, offshore races, match racing, teams racing and special events. We offer sailors world class facilities and racing in formats to suit all levels of competition experience.
Our Dinghy Division offers dinghy sailors from 7 through to 70 years of age a great sailing program!
In the Summer Season, dinghy sailing activities regularly occur on a Sunday with boats rigged and launched from the lawn area in front of Dinghy Division club rooms. Parents and family members are welcome to enjoy the Club hospitality while their sailors are enjoying racing or training out on the water.
We sail on Matilda Bay in front of RPYC as well as at the Fremantle Annexe, both of which provide some the best sailing conditions in the world catering for beginners through to high level competitors. Dinghy Division sailors will tell you there is no better place to be than out on water either in Matilda Bay with the city of Perth as a backdrop or enjoying the thrills of ocean sailing. Royal Perth Yacht Club offers the best of all worlds.
Our training and coaching programs actively support and foster Club participation in interclub, state, national and international sailing events.
For information on sailing a Sabre at RPYC please contact Sabre Class Representative Ian James ian.m.james4@bigpond.com Mobile: 0434 307 983