The Australian Sabre class continues to prove itself as one of the most accessible forms of sailing on offer, with the Victorian fleet recently bringing a land-loving Spaniard into its ranks and introducing him to the sport.
It was a long way from Barcelona to Black Rock and a big challenge developing his sea legs, but after Luis Mata moved to Australia with his family he quickly found himself regularly enjoying the beach at Half Moon Bay.
He began watching sailors launch their boats at the Black Rock Yacht Club (BRYC) ramp and wondered if he might be capable of mastering the sea.
After getting started in the BRYC learn to sail program, Luis quickly found that sailing was for him and soon mastered the basics. Left with the decision of where to next with his on-water endeavours, he set his sights on a single-handed dinghy with the Sabre being his first choice.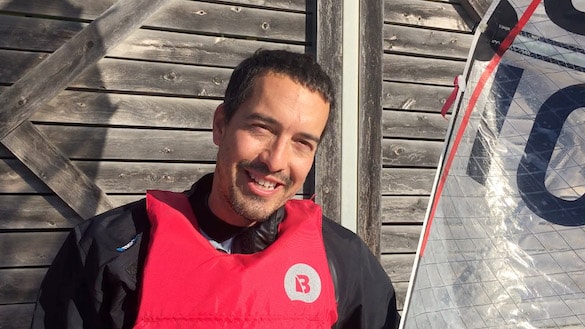 "Everyone agreed that the Sabre fleet was a really friendly bunch," Luis said, as Sabre Association boats were up for loan allowing him to rapidly embrace the challenge.
"The Sabre was amazingly fun and very forgiving of my lack of experience."
Luis said the challenge confronted by many new sailors outside the learning of basic skills was boat maintenance – and after the generous donation of a 40-year-old wooden Sabre hull, Luis' dinghy lessons were as steep on the water as they were off.
A complete renovation was on the agenda, so Luis was joined by some veterans of the class and masters of 'boat magic'. Together, weeks were spent sanding, gap filling, repairing, varnishing and finally applying the 'wing commander' blue to the newly streamlined hull.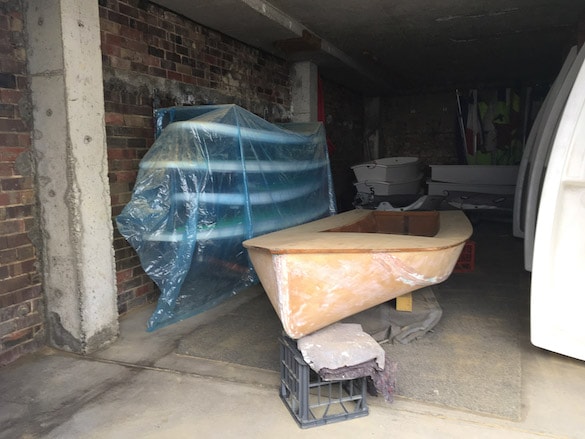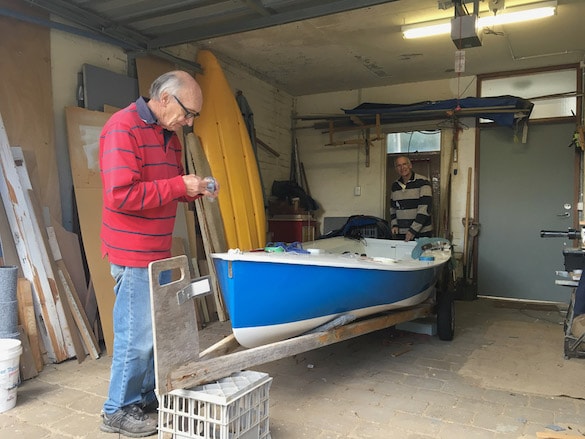 Generous donations of sails, a beach trailer and all manner of important ingredients, highlighted that the newly renovated Sabre was indeed a testament to collaborative effort and community.
"It was a steep learning curve for me and I'm still amazed at how we pulled it all together in such a short period of time," Luis laughed, looking back on the project.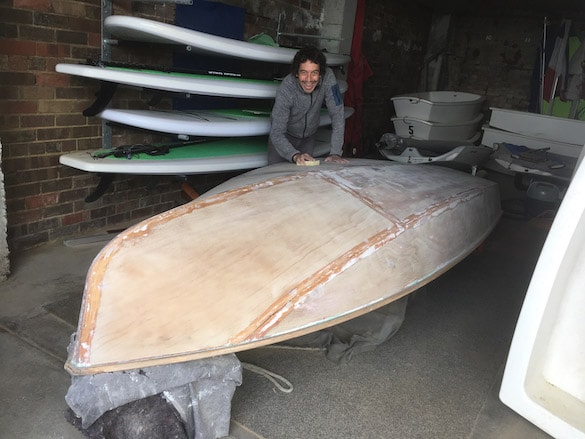 "Everyone helping was so patient in explaining the theory behind the decisions they were making and showing me how the work needed to be done."
After a recent move to Black Rock, Luis can be seen regularly sailing on Port Phillip Bay with his Sabre friends, while his exceptional confidence and enthusiasm as a beginner has set a solid trajectory for his future sailing successes.
"I've heard a few times that it's relatively straightforward to learn how to sail a Sabre, but that it takes a lifetime to learn how to sail it well," he said.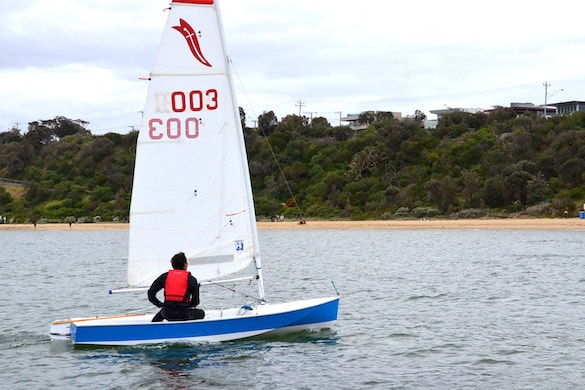 Pursuing this long-term goal, Luis plans to stay focused on improving his skills in all weather, seeking the fun in every sail, and encouraging his family to join him in his new endeavour.
When asked what advice he would give to anyone learning to sail or renovate a boat, he enthusiastically said: "Go for it! It's absolutely worth it. Learning from others has been truly inspirational."
For more information on BRYC learn to sail programs visit https://www.bryc.com.au/sailing-school/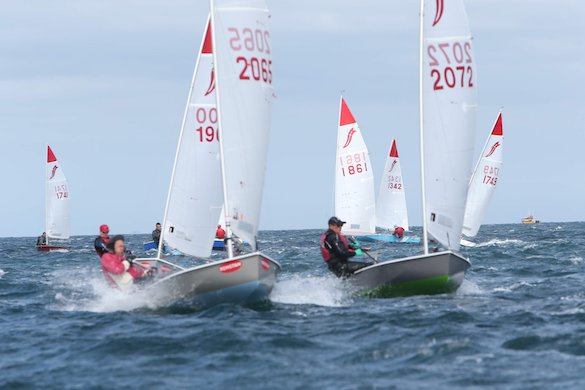 Hello Sabre Sailors,

In these uncertain times, Sabre racing has been called off in all Victorian clubs and Australian Sailing has posted similar cancellations across all Australia. We continue to experience a dramatic human and environmental toll and on people as societies as economies experience one of the rarest time segments in history. We appear to be living in a place where the world as we know it is shutting down around us. Many of us are going to be feeling uncertain, overwhelmed and generally on edge. The things that bring you peace and comfort may not be available to you. The safety of routine has been stripped away.
We've witnessed toilet paper hoarders and crazy supermarket behaviour but more importantly numerous examples of truly inspiring behaviour and if anything, the unprecedented scale of this current situation has forced us to prioritise what is important because not one of us is doing it easy right now.
Give a thought for the heroes providing us with "essential services" such as health care workers, supermarket workers, service station attendants, cashiers, delivery drivers, warehouse stockers or traditionally "unskilled workers" who are providing us with our bare necessities. This is a rare opportunity to appreciate the people who are essential to keep society surviving and operating and are often overlooked.
But things must and will improve. Like most of us I have been doing my fair share of reading in the last few weeks. In order to turn this series of events around and get our economy on the pathway to a new normal, the collective economic wisdom appears to be three things need to be in place for the 'stool' of economic recovery to have stability. Financial markets remain healthy and there is available liquidity. The Govt stimulus packages need to be in place. Lastly, the key statistics of COVID Virus around infection treatment and mortality improve.
Right now, 2 of the 3 are effectively in place and the third is starting a positive trend as a result of all the self-containment and distancing we are practicing.
I believe there is a fourth leg to this stool. There are without doubt events and things in our lives that we cannot control, and the COVID19 crisis is certainly one of those. The one thing we can control however, is how we choose to respond to it. While we don't think we are in control we are in fact in control of how we act, behave, respond and interact.

So, to all Sabre Sailors, and everyone else - when all this is over let's remember this point of history. Let's make sure we appreciate the opportunity to go sailing and compete, to share a beer and to shout (either a round or at the gybe mark) to shake someone's hand, to help out, and to enjoy the camaraderie of friends, family and sailors alike.
So, with that as a background it is most pleasing to reflect on some of the highlights and lessons of the shortened season and prepare for the season ahead – whenever this will be!
Vic State Titles
It was great to see the strength of competition with 69 boats at the Vic State Championships at Mt Martha. All enjoyed a variety of conditions, the friendly and helpful Sabre culture and the expertise and professionalism of race officials. Our National Champion, Alan Riley, took out the honours from Gary McLennan just shading Murray O'Brien in third place. Mt Martha's Michelle de Blaquiere won the well contested ladies' group. Also, great to see the youth contingent, won by 17yo Edward Warner of Blairgowrie, perform so well including in the very windy last race.

Success in the Nationals and States has arisen from strong competition club racing and Vic regattas in a wide variety of wind and wave conditions. Pleasing to see the continuing growth in Sabre numbers in Victoria, a record unequalled by many classes. We put this down to a good boat supported by high quality builders and sail makers and good, supportive Sabre culture including regular coaching at club level. At the top level, sailors work hard in two boat sailing and feedback to achieve their results.

Sail Design Evaluation Project
What does the 2020/21 season hold? As most are aware, the Sabre sail design which has been used for almost 50 years is being re-evaluated against alternative designs. Unfortunately, weather, coronavirus and time to do the necessary work have held us back during the current season. However, it's still ongoing, with an aim to complete the work and gain acceptance by the Sabre fleet this year. We are planning to have two new sails built and evaluated against our current sail. As you would be aware, during this season we have evaluated the shark sail against the Sabre sail (refer the report from the SSAA Committee Feb 2020 on the Sabre web page). If there were to be a change in sail design, it would take several years thereafter to become the new standard sail.

Amateur built wooden ply Sabres were the start of the Sabre class. The original Sabres filled a big gap between the then training classes and skiffs on Port Phillip Bay and were extremely popular. Cooperative, inexpensive building of wooden boats by enthusiastic sailors led to quick growth of the class which over the years has been augmented using new materials including GRP. Unfortunately, Sabre measurement rules and building techniques have not allowed wooden ply boats to be built to the stiffness and life span of the GRP boats. Measurement rules are now being reviewed to allow the gap to be closed and wooden ply boats to be built from scratch or using kits including foam backing. Any changes will be done in a way that does not disadvantage current Sabres and would allow simple retro fitting to strengthen wooden ply boats.

2020-21 Sabre Nationals
Will be held in Canberra 10-16 January 2021, relatively easily reached by fleets in the eastern states. Sailing in Canberra presents different types of challenges but strangely enough, over a week- long event, the best sailors normally win! It will also be a great place to showcase our class. With the pollies away, high end accommodation should not present a problem.

Thus, as we reluctantly close the current season and look forward to the next one, we plan to build on the current strength of the Sabre fleet around Australia. We will be forced to move at a pace that will be governed mainly by the coronavirus that unfortunately is affecting us all, but we will keep you up to date with all developments as they arise.
In the meantime, stay safe and good sailing.

Russell Rooney Bruce Abbott
President SSAA President SSAV