Here is the link to the Notice of Race:
The 2017 Victorian state championships will be hosted by the Blairgowrie Yacht Squadron on the weekend of February 27 & 28.

It's been about 10 years since we were last at Blairgowrie for the states, and this year we will get to enjoy the club's brand new clubhouse which opened just 2 months ago. The new clubhouse has a much larger deck, and has a full kitchen which sees meals be served to members and their guests 4 days a week. Coupled with the normally flat seas and the picturesque coastline that arcs from Sorrento to Arthurs Seat and beyond - its been a long time favourite visiting spot for the Sabres since the early days of the class.

The racing will be our now familiar 2 day format with a race on Saturday morning, 2 on Saturday afternoon and 2 on the Sunday in the late morning. We will be putting on a catered bbq and buffet dinner on the Saturday night in the new clubhouse for everyone who'd like to unwind after the Saturday racing and to experience the new clubhouse. (You'll need to book this at the time of entering the series)

Blairgowrie of course was the host of the most recent nationals where we had the amazing 130 entries - the biggest ever Sabre event. We're hoping that this will be a really really big fleet as well - our target is at least 100 boats !

For many this will be your big sailing event for the season - so we look forward to getting your entries in ! (And one more thing - if you haven't had any new foils or sails measured as yet - you need to do so before the championships !)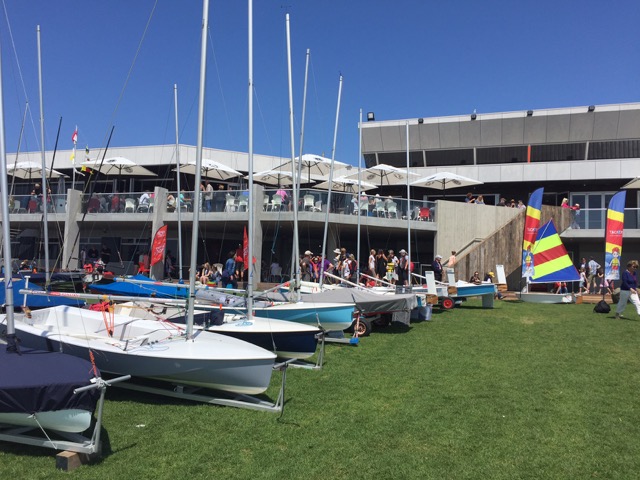 Coffee Cruise
Another good turn out for today's coffee cruise. 9 boats and 11 sailors and a few members who have come by car. For more pictures and Videos go to the clubs Facebook site.
https://www.facebook.com/mordiallocsc/?fref=ts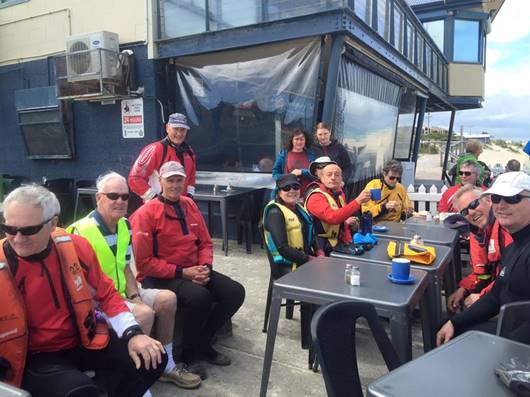 Racing – by Peter
Two great races were had in a 15 to 20 knot S-SW breeze with a normal T4 course and some great reaches.
Drew, Bruce and Peter had some close racing with little between them as Drew won the first with Peter winning the second and Bruce consistent with two thirds and close behind.
Rod sailed well with two fourths and for a lot of the race, he was just behind the leading group. At 70, Rod can always be replied on to turn up for a Saturday PM sail and to participate in the Coffee cruises during the season – Thanks for your support and attendances over the years Rod.
Lawrence I think, surprised himself by completing both races in the 15-20 knot S-SW and is progressing very well in the Sabre fleet – good stuff Lawrence.
Darrell turned up for lunch and a chat as he is still recovering from an operation. Darrell hopes to be back on the water before Christmas.
The long awaited new wooden Sabre built by Mark Rimmington is nearing completion and should be on the water also before Christmas – We are all looking forward to Christening her soon – with Champagne....
Colin and Chris were unable to attend last week but will be back in force this weekend and it is hoped to have 8+ Sabres for this weekend
Lessons Learnt
Again it was a cloudy morning with a moderate breeze that squashed a little enthusiasm , a habit that should not be encouraged. As we have learnt in past weeks, the PM weather has no resemblance to the AM conditions and with that in mind, the rigging area should be full of boats. Here endth the first lesson.
Sailing Diary
When I started up sailing again, Peter suggested that I start a diary on each race to help re learn skills and tactics I had forgotten. For those of you who have Big brothers you don't always do what they say, but in this case I did and found it very helpful. It makes you sit down and critically analyse how you go about sailing
Date– Mordialloc
Wind & Conditions - Light Southerly 5 - 7 knts
No. of boats - 8
Result - 3rd
Race 5
Start
o

What happened in the 5 minutes leading up to the start and the first 3 minutes after the gun. Were you at the correct ed, Clear air, no one immediately to leeward, no faster boats directly to windward etc etc

o

Which way did you go and why, did it work out, where did the top bats go & why? How did you handle the wind shifts and waves. What tactics did you use and did they work?

o

Tactics, waves other boats, gain or loose

o

Tactics, waves other boats, gain or loose, has the wind changed direction

o

Which way did you go and why, did it work out, where did the top bats go & why? How did you handle the wind shifts and waves. What tactics did you use and did they work?

o

Tactics, waves other boats, gain or loose

o

This is generally only a short beat to the finish but quite often you can pick up or loose a place, so Tactics are important
1st Beat
Reach
2nd Reach
2nd Beat
Run
Finish
Result - 3rd
What I did well
5R- Caught the little waves down wind
5B- Found the extra pressure in the east side

A5O – Check all cord ends are sealed properly

A5O – Fix Main Sheet end

A5O – Clear Contact on side Deck, Longer cord on pencils, rule lines for Time and Wind Direction

5P - Make sure you know which start you are.

5B – Anticipate waves better as was stopped by one when wind died.

5B – Look for wind on water
Actions
Learning's
Definitions
P = PRE-START [from when you arrive at the club]

S = START [includes first 5 minutes of beat]

B = BEAT

R = REACH / RUN

F = FINISH

O = OTHER observations eg. How other boats are set up, changes in conditions
Association News
NSW - Update from Wallagoot Sailing Club Hi all, There are 11 Sabres at Wallagoot Lake, though we usually only see 4 or 5 on any Saturday.The two stars of the class are Terry Kirby (2067 "let the wind") and Neil Fisher (1539 "windsong"), who race closely on the water and ...
For more see http://www.sabre.org.au/states/new-south-wales/news-nsw/510-update-from-wallagoot-sailing-club
WA - EFYC Sabre News - Nov 2015 On Saturday 7 November we had 13 starters, including Craig Nylund, a regular visitor from Safety Bay and a new visitor trying out the Association boat Tiwi. Two races were sailed in gusty conditions and both were won by Pete Coop. Following closely behind him were….,
For more see http://www.sabre.org.au/states/western-australia/news-wa
Other Sailing News
2015 Para World Sailing Championships
This Week's Sailing Quote
For the most part, a sailboat navigates through its world of wind and water not leaving a single trace of its passage. Nothing is consumed. Nothing is altered. The winds and the water are left in exactly the same condition for the next user. Sailing is forever.
-- Michael B. McPhee
Finally
Commodore Greg Gleason and Club members take delivery of a Hansa 303 from Sailability Victoria's Russell Phillips for their Friday sailing program.